Chapter 5
Feb 28th 1915
Told we are to leave Mena Camp on Sunday March 1st. That is good we are going to celebrate it tonight in the canteen. There goes Cookie with his ballads, he is properly wound up with two pints of beer. I believe he thinks he is just it, and he is poor fellow. Never mind he may think me just as bad. Allo, there goes Page right over the seat, singing "Who where you with last night" and "Get out and get under". What sport we will have in the tent. Old Boller/Freebairn wants to be kissing everyone; Will Harvey wants to be Robbie Burns. Mansfield wants to be a comic singer, but what a failure he is. Cookie has gone to sleep and his snore seems to annoy me very much, and I have just given him a crack. Hello, what's this? Harvey thinks he is Jack Johnson he wants to bash in someone's head. At last there is a little order in the house, ah, I spoke to soon, here is Freebairn walking over everyone to come and tell us he wants to be friends, and will we shake hands. I don't know about shaking hands, I got his heel in my little Mary, and he is no lightweight. Anyhow on Sunday we leave for somewhere.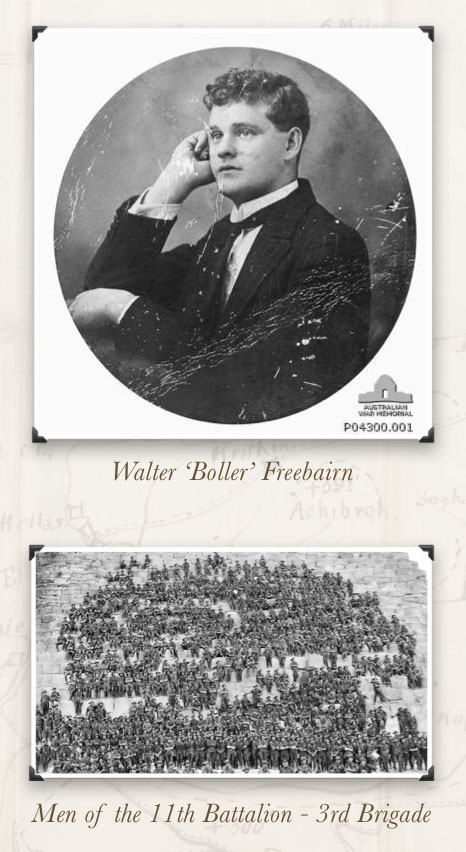 March 1st 1915
The reason we are leaving with the 3rd Brigade is because we are fully equipped and the other companies are not. We have been very busy, with the tents and clearing away the tables and seats from our mess rooms, packing the General Timber Waggon and cleaning the lines right well. We are ready for the road, but have to wait until the infantry have passed then we follow on.
5.30pm we commenced our march to Cairo railway station, with the best of wishes to the fellows left. We arrived in Cairo some time about 10.00pm, and we then had to transport our waggons on the waiting train, which took us until 2.30am. We had just time for a little bit of biscuits before we embarked for Alexandria. We were very tired when we reached our destination for I can tell you, our troop train is not the most easy to ride in. We arrived in Alexandria at 6am and we had to unload our kit bags, and waggons after breakfast, which was fast, and no mistake, biscuits and cheese. I had the misfortune to be picked out Mess Orderly for the day, and I can tell you everything was upside down. I might say the ship we had embarked on was the SS Suffolk. Anyhow, after being Mess Orderly all the day I had to turn to and help the rest of the company with the waggons and I think we finished embarking about 1.30am the next day. I was just about tired out, and then there was a race for hammocks, but my good luck stuck to me, I got one and went right forward into the Sergeants place.
March 2/15
At last we are on the move again, once more on the sea, for where we do not know nor do we care very much. She is a very dirty ship; we have been on fatigues all the day cleaning her out. We have the 11th Battalion on board and we are under Lieut-Col Johnson (Tipperary) and Major Brockman. Anyhow the sea is lovely again after the rotten old sand.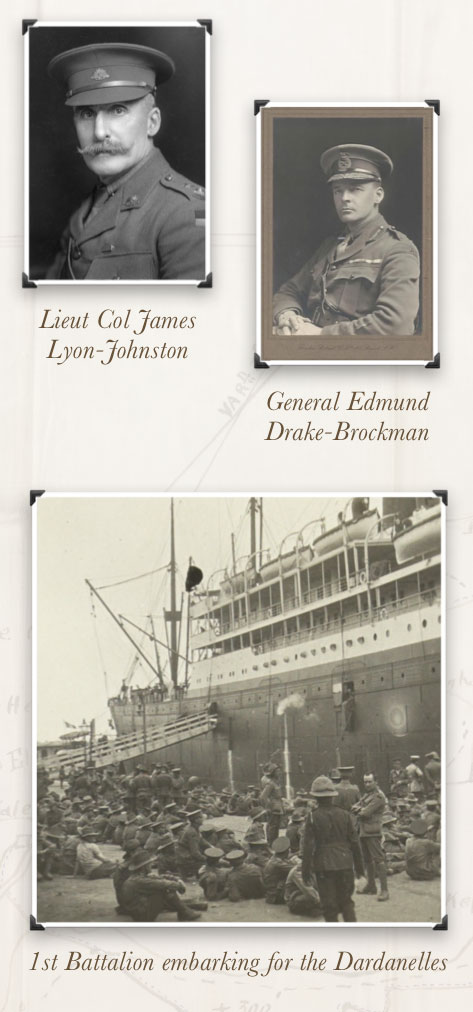 March 3/15
We have been told today that we are bound for an island named Lemnos, a Greek possession 40 miles from the Dardanelles, so it looks like there is something doing that way. Now the ship looks a little bit better with the cleaning she received, but the food it is bad. We have Greek cooks and they just murder everything they put their hands on.