Chapter 4
Sunday Dec 1914
We have just had Church service on the hill near the camp so we are dismissed for the day. I am taking it easy until dinnertime, just reading to kill time. Some of the boys have gone to the Mena Hotel baths for a swim, but by the time they got back they will want another, for the sand is coming in all directions, it gets in your eyes, ears, mouth and you are chewing it a treat. There goes the cookhouse, now for our dinner. It's not bad today, roast beef and vegetables with plum pudding to follow, that is the extra sixpence we are allowed. Now we have had a smoke we are ready for our little expedition to the great wonders of the world.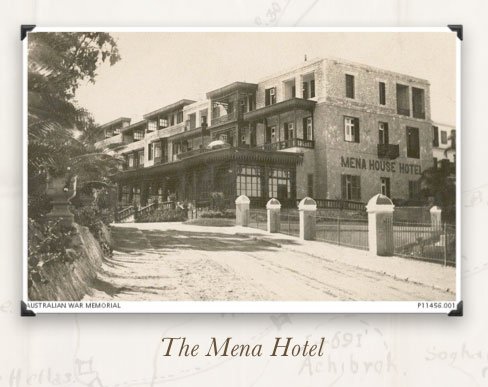 We left camp 2pm and no sooner were we away than we had about twenty black guides around us, to explain and show us the wonderful things in and out of the Pyramids. We engaged one for about 5/-, and he led the way with his great big strides across the sand. It took us all our time to keep up with him. At last we arrived at the Great Pyramids. The big one we learned was King Cheops burial place, along with his Queen. It is about 430 feet high, and the same width through at the bottom. We started to climb up to the top, and what a climb. You had to climb over great big blocks of stone. How they got them up to the top I don't know. We reached the half way place, where you can rest for a while to get you wind for it knocks it out of you going up. After a rest and a smoke we started again, away goes our mad guide ahead of us all, you would think he had only five minutes to get up in. Here we are at last right on the very top of the great Pyramid and what a view you get. You can see for miles up the Nile and over the desert. Cairo you can pick out without trouble and when you look down, how small everything seems, it makes you a little bit afraid. Well it was worth all the trouble in climbing for it is splendid up here. You can have a small cup of coffee, and I said small, which costs you 2/-, but it is just to say that you have drank coffee on the very top of King Cheops Tomb (or Pyramid).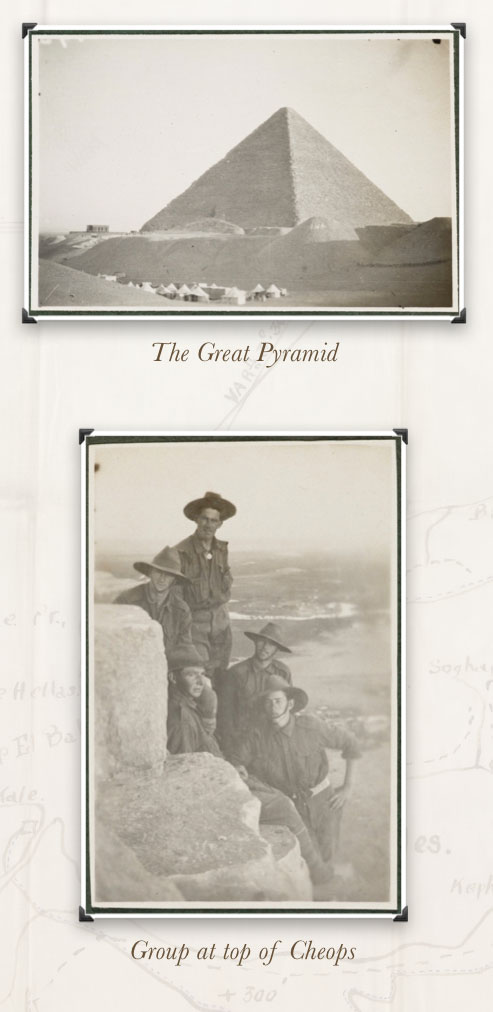 Now we started on our downward trip which was worse than coming up because you can see down, and it make you feel a little uncomfortable. I turned my back on it, and came down with my face towards the Pyramid so I could not see down to the bottom. Well we reached the bottom at last, with a sigh of relief. Then the guide rushed us off to go inside the things. We had to take off our boots and leave a native boy in charge of them, woe betide him if he loses them. Well at last we are ready for our excursion under the mighty Pyramid. When you go in, you have to stoop down for it is a very small entrance and now I can understand why we had to take off our boots for it was very slippery inside. I did a fine slide as it was, and nearly knocked the guide off his feet. I put the candle out anyway. As you go down, you can see places cut out of the marble or whatever it is, to put your hands and feet in, so that you can steady yourself. Oh but what dust, I am nearly spitting blood with the blooming dust getting down my throat. But still our mad guide goes on, he does not seem to mind the dust. I suppose it is like a job to him.
After nearly going down for a hundred feet or yards, I don't know which, we started to climb up again (and I might mention here that the passage we were in was only about 3 feet high, and the same width, so you can picture us getting along). It's a sport going down this slippery passage. You could hear curses, because some fellow had slipped back on to another, and put his candle out. By this time I could not see Abdul our guide he was ahead a long way, I know I got his dust; but at last we caught up to him, and he pointed out to us a very deep well, which he said was over 100 feet deep. I looked at him thinking I had got an American. Then we asked him what it was for and he said when King Cheops wanted a drink, well that was the limit and big Page he burst out laughing, which started us all off. Fancy a dead man wanting a drink, it was very funny, but still it was their belief.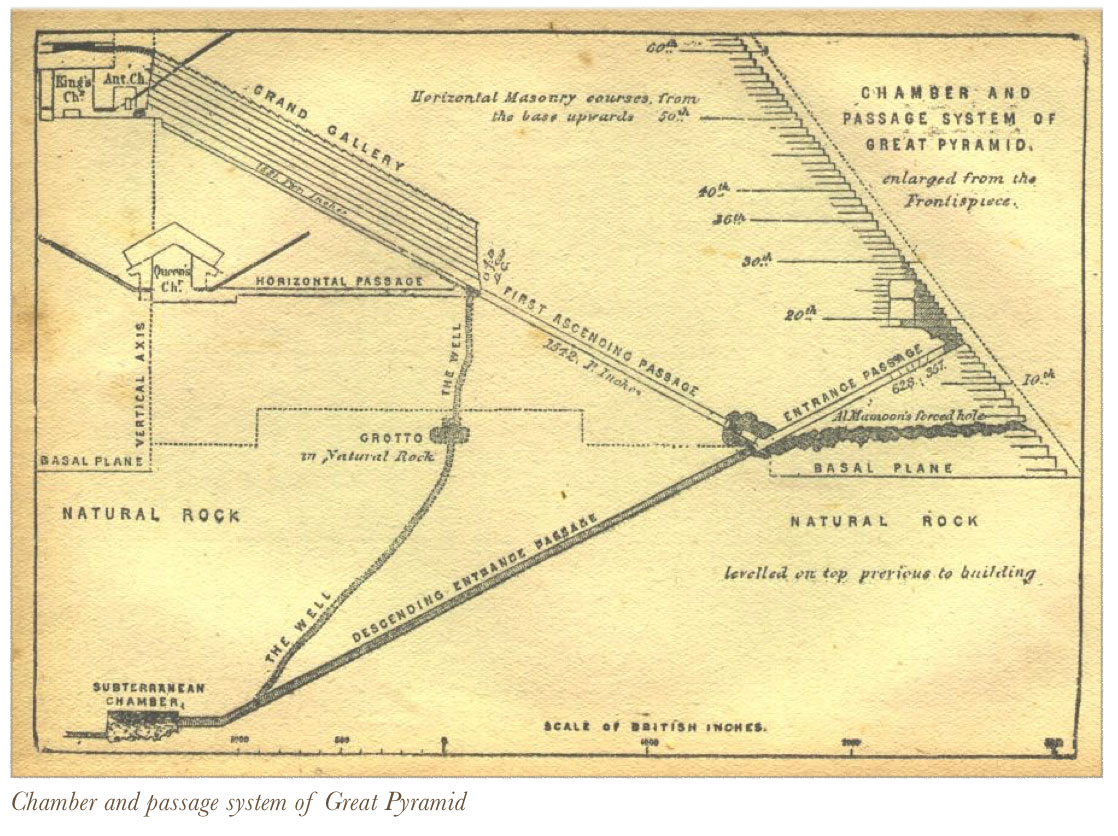 At last we came to the Kings Tomb, a chamber. It was a square place, with an oblong place cut out of the wall, that is where he is supposed to have laid in his coffin. Near this was a little square hole. I asked what that was for. I was told it was an airshaft, which went right through Pyramid. We all looked at the guide expecting to hear that it was there so that King Cheops could get fresh air when he wanted, but he never said anything to that effect. After having a good look around we set off to visit the noble Queen's chamber. Like the last we had to go up a passage full of dust. The Queen's place was just like her King. So we might just as well kept out of it, there was nothing to pinch, and by this time we were terribly hot and tired. So much for the chambers of the King and Queen Cheops. We made our way out again, and by the time we arrived at the entrance we had holes in our socks as big as five-shilling pieces, more darning to do. Soldiers must be everything like a housemaid, but never mind it is all in the game.